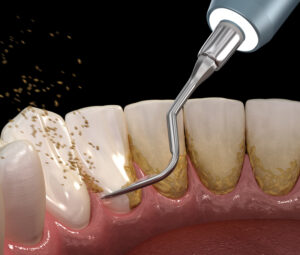 Do we need regular dental checkup and cleaning? The answer is yes. Depending on your individual situation, your dentist may need to see you two to four times per year. 
Regular dental visits are important because they can help spot dental health problems early on when treatment is likely to be simpler and more affordable. They also help prevent many problems from developing in the first place. Visiting your dentist regularly is also important because some diseases or medical conditions have symptoms that can appear in the mouth.
When you see your dentist regularly, she is in a good position to catch oral problems early, which will mitigate problems down the road. For example, by catching gum disease when it is still reversible, or cavities when they are small, they are more easily treated and often at a lower cost.
Even if you do not have any symptoms, you can still have dental health problems that only a dentist can diagnose. Keeping your mouth healthy is an essential piece of your overall health. It is also important to keep your dentist informed of any changes in your overall health since many medical conditions can affect your dental health too.
Ready to schedule an appointment? Call 703.268.5622, or email us [email protected] today! You can also request preferred day / time by clicking here.
"Dr. Karma is AMAZING. I am new to the area and have just started seeing her since December. I have already visited with her at least four times for cleaning, cavities, and whitening. I cannot get enough of her. She is very knowledgeable and explains everything in detail. She does phenomenal work every time I am there. I love the clean office and friendly staff. But what I love the most is the pride she takes in her work and everything that she does. Thank you so much Dr. Karma."

Marrissa C.