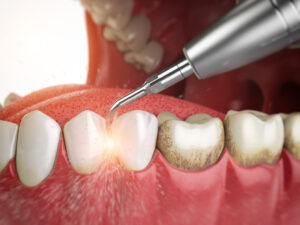 If you have been brushing your teeth regularly and have had regular dental visits, you may wonder why you might still need deep cleaning? Deep cleaning is a dental procedure that treats gum and periodontal disease. According to a study by the Journal of the American Dental Association, deep cleaning is especially beneficial to people with chronic periodontitis.
Gum disease is caused by a sticky film of bacteria called plaque. Plaque is always forming on your teeth, but if they are not cleaned well, the bacteria in plaque can cause your gums to become inflamed. When this happens, your gums will pull away from your teeth and form spaces called pockets. Plaque then gets trapped in these pockets and cannot be removed with regular brushing. If untreated, gum disease could lead to bone and tooth loss.
If gum disease is caught early and has not damaged the structures below the gum line, a professional cleaning should be all you need. If the pockets between your gums and teeth are too deep, however, scaling and root planing may be needed. It may take more than a single visit for your deep cleaning procedure to be complete.
For a free consultation, or a deep cleaning appointment, call 703.268.5622 or email us at [email protected] to book an appointment. You can also request preferred day / time by clicking here.
We are conveniently located next to the Fair Oaks Mall in Fairfax, Virginia.