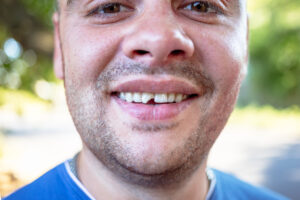 As you are crunching on a piece of hard candy, you notice something hard in your mouth that does not melt or dissolve. You get a sick feeling as you realize what it is — a piece of broken tooth.
Although the enamel that covers your teeth is the hardest, most mineralized tissue in the body, its strength has limits. Falling, receiving a blow to the face, or biting down on something hard – especially if a tooth already has some decay — can cause a tooth to chip or break. If you have broken or a chipped tooth, do not panic. There are many things a dentist can do to fix it. But you should see a dentist as soon as possible. If you delay treatment, your tooth could be damaged further or become infected, possibly causing you to end up losing the tooth.
Call Dr. Karma right away at 703.268.5622 or email us at [email protected] to book an appointment. You can also request preferred day / time by clicking here.
We are conveniently located next to the Fair Oaks Mall in Fairfax, Virginia.
"She is amazing! My tooth was 3/4 fallen off and she rebuilt it beautifully. Dr. Karmacharya has a wonderful bedside manner and amazing attention to detail. I HIGHLY recommend her!!!"

-Sonia D.