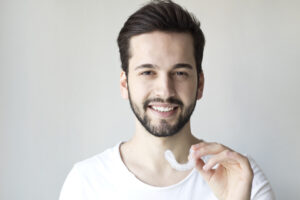 Teeth grinding and clenching, also known as Bruxism, is common and can be painful and destructive to teeth. Some of the symptoms of Bruxism include:
Teeth grinding
Jaw soreness
Facial pain
Fatigue from lack of sleep
Waking up with dull headaches

Some patients may not even be aware of their own grinding. While occasional teeth grinding may not cause major issues, persistent Bruxism can lead to broken teeth, loss of tooth enamel and in severe cases, loss of tooth.
In most cases, Bruxism can be treated by wearing a night guard while you sleep. The night guard helps to lighten the tension and give cushion to the muscles in the jaw. This cushioning not only helps to prevent face and jaw pain, but also protects the enamel of your teeth.
Your dentist will make custom night guards that will work best for your individual needs.
To schedule an appointment with Dr. Karma, call 703.268.5622 or email us at [email protected] to book an appointment. You can also request preferred day / time by clicking here. 
We are conveniently located next to the Fair Oaks Mall in Fairfax, Virginia.